Equestrian excursions in Brittany: the Cotes d'Armor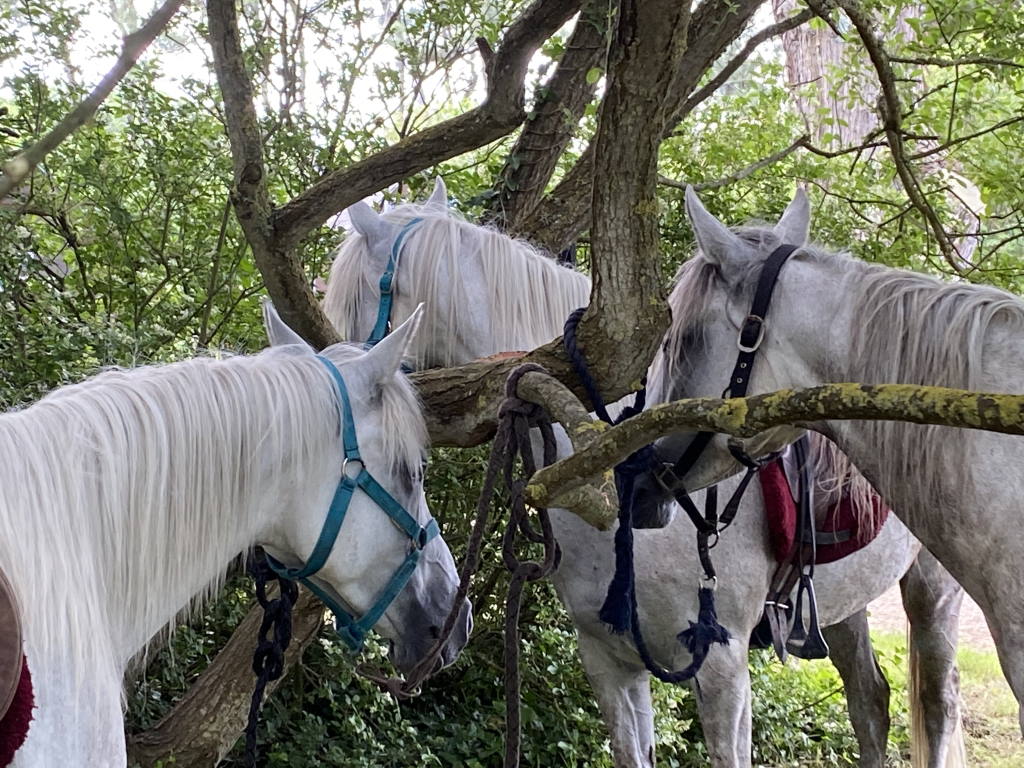 Brittany, a land of anger and fighting but also a land of celebrations and discoveries.
There is no Ankou at the corners of the paths but if you see a goblin or some ethereal nymphs, it is not the omnipresent iodized air, but the excess of chouchen or cider. It is because they are as welcoming with the riders as they can be with their big-hearted Bretons.
We are Morvandiaux, the language that is spoken at the bottom of our lands is almost the same, Celtic influences are everywhere, Morvan means Mor wen which can be translated into "black mountains" in our country as in Brittany.
Let's be pragmatic, the country is beautiful, the paths varied and riders and our itinerary skirts the rocky coasts, the ports and even crosses the bays when the tide is favourable to us.
Horses born and bred at home are enduring, strong and efficient, they ride long gallops on the beaches, cross rocks if necessary and behave like postmen in the city...... Trying the cavalry of a boo and a dia is a bit like adopting it (but not too much because we care a lot about it!!)
After Morbihan and Finistère, the Brittany route is for two years in the Cotes d'Armor
From July 6 to 12 the departure is from the banks of the Rance (near Dinan and Saint Malo) and ends in Paimpol (and its cliffs) The stages; Pleslin Trigavou, Saint Cast, Erquy, Hillion, Binic, Lanloup, Plourivo via the Bay of Saint Brieuc, Saint Jacut de la Mer and the possible crossing of the Bay of Saint Jacut, the capes and the castles. A dive into Brittany that lives and moves, that of the seaside and coasts...
Practical details:
the riding level required is to be comfortable and independent at all three gaits. (in good shape and good mood, happy accepted!!!)
Possible transport: We will pick you up at Rennes airport, or at Saint Malo station on Saturdays from 4pm (we will bring you back at the end of your stay on request) otherwise the appointment is fixed from 4pm in Saint Samson sur Rance.
An assistance vehicle provides hot lunches and luggage transport and even a horse if one of you is a little tired for half a day.
Overnight stays in small hotels and guest rooms, quality meals.
Hiking rate 2019 1600€
For further information, please send an e-mail to ahueetadiamail@gmail.com
Tel: jean on 068268585858.

Dates, details and prices
Dates 7 days (including 6 days on horseback)
du 06/07/2019 au 12/07/2019

Hosting
Hotels, cottages and guest rooms
Home
Welcome on Sunday afternoon around 17 18h end of the hike on Saturday at the end of the day, meal and overnight stay from Saturday to Sunday planned if necessary.
Accompanist
Equestrian tourism guide
Equestrian level required
Comfortable and independent with three gaits and varied terrain, riders in good physical condition
Prices
( single room + 280 euros)
Coming
By train: Nearest SNCF station : Saint Malo
By plane: Nearest airport: Rennes By car: Saint Malo By your own means Carpooling